…is simple: to support prostate cancer research.
The major source of external revenue for The Foundation is through collaboration with our wine making efforts at 2redWinery where we produce award-winning Zinfandels and Syrah/Rhone blends.  Your tax-deductible contributions to The Foundation entitles you to our wine as gifts.
For the 3rd consecutive year, The Foundation continued to combine wine-making with fund-raising, rewarding supporters with great wines from the wine library of 2redWinery.  The 2017 campaign remains live on Indiegogo.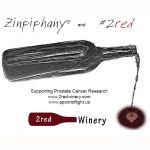 All proceeds support the foundation.